Ninjatown DS
Sunny skies, lush forest and rolling hills combine to form the land known as Ninjatown where adorable and honorable Ninjas populate this vibrant yet peaceful place. However, after the mysterious eruption of a nearby volcano, Ninjatown is attacked by hordes of sinister enemies lead by Mr. Demon, who, for reasons unknown, is bent on destruction. It is now time to use each of the Ninjas' unique skills and powers – even the Ol' Master Ninja comes out of retirement to fight off the evil and secure Ninjatown, one district at a time.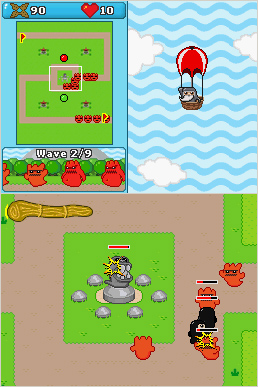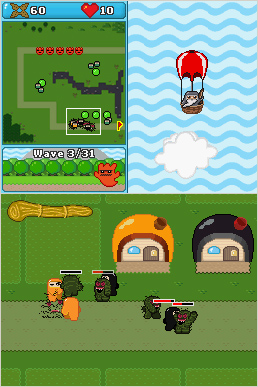 Features
Based on the popular Shawnimals designer toys and plush – this is the first game to bridge the designer toy and videogame worlds
The game is played from the top down, with the player using the stylus to place buildings and issue commands to ninjas on the battlefield
Non-stop gameplay that combines town "build" and "defend" modes to keep the action flowing
Each Ninja has specific powers and weapons that make them well suited to fight off certain enemies
Ol' Master Ninja comes down from above to bust out special moves like "Get off My Lawn" which uses the Microphone to "blow" enemies around the map
Each building is upgradeable to keep your fighting Ninjas one step ahead of the forces of evil
Build support buildings to bolster your Ninja skills and help them fight off the enemy
Totally unique art style and gameplay bring a fresh look and feel to the DS
The creator of Shawnimals and Ninjatown, Shawn Smith, is a former editor at Electronic Gaming Monthly magazine. He knows games!
Press Clippings
"Don't let the cutie-pie exterior fool you — Ninjatown is a gamer's game through and through."
– Game Informer (9 /10)
"(Ninjatown) avoids the curse of most licensed games and ends up being a great little portable title."
– IGN (8.7 /10) Editor's Choice Award
"A very solid strategy game… Ninjatown's layered in a coating of sickly sweetness that no amount of scrubbing will ever get out of your DS slot."
– 1up (B+)
"Ninjatown is bursting with charm and personality and it's found the perfect fit on a system that is just as original and unique…it's brimming with personality."
– GamePro (4 /5)
"If you love strategy games, forget about everything else and just play it… A must-have for strategy game fans everywhere."
– GameZone (9 /10)
"While most people may have seen the previews for Ninjatown and thought the art design was adorable, I had a more personal interest in the progress of the title."
– Destructioid (8/10)
"It is delightfully challenging, has a clever script, adorable characters, lots of unit options and special abilities which can single-handedly turn the tides of battle."
– Gamertell (4.5/5.0)
"The game also does a good job of easing you into the gameplay, making it perfect for RTS newcomers. You can even do multiplayer…"
– Gaming with Children